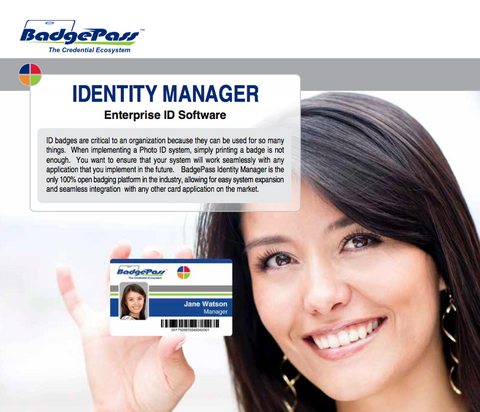 BadgePass Identity Manager
BadgePass Identity Manager is enterprise-level card issuance software.
It offers a user-friendly interface for both designing IDs and enrolling users into the system.
ξ
INCLUDES 1 year Software Maintenance Agreement (SMA).
BadgePass Identity Manager can be installed on a single workstation or distributed across your enire network. Even better, it is the only 100% open badging platform in the industry, allowing for easy system growth and future expansion into other ID card applications.
Features and benefits Include:
- Customized ID card design
- Driveräó»s License Scanning
- Produce both physical ID cards and virtual credentials (NFC)
- Database synchronization
- Active Directory Plug-In
File / ODBC Scheduled Sync Utility (Data Sync) Save and Search Records

Auto Create Security User

Oversized Canvas with Drag off Capability Import Images from File

Signature Capture

Signature Capture

Image or Photo with Ghosting/Opacity Effects Rich Text Formatting

Word Wrap, Shrink and Truncate

Multiple Layers (Z - Order)

Add Shapes and Lines Field Rotation

Alignment & Formatting Tools

Third Party Form Population/Screen Push Plug-In Center

aptiQmobile Integration

Event Driven Email Notifications

Print to Other Media

Single or Double-Sided Printing

Conditional Print Rules

Native XPS Printing

Store Photo Paths in Database

Wizard for Managing User Account Privileges

Software Security Key

Web-Based Reporting Infinite ID

Active DirectoryTM Integration

Configurable Search Criteria

Adjustable Badge Sizing

Integrated Photo Capture (TWAIN, DirectShow & WIA)

Export Images

Save Multiple Images per Record

Add Image Fields (Variable and Static)

Add Text Fields (Variable and Static)

Flexible Font Sizing and Colors

Flip Between Front and Back of Card

Multiple Field Selection

Prompted Data Entry

UV Printing

Field Masking

Background Color Fill

Photo Field Border

Add Magnetic Stripe

Add Linear and/or 2D Barcodes

Set Conditional Design Rules

Dual-Sided Printing and Batch Printing

Dual-Sided Template Designs

Multiple Field Selection, Alignments and Formatting

User-Defined Card Size

Copy Card Designs or Fields Between Designs

Add Photo Fields

Add Text Fields (Variable & Static)

Text and Date / Time Fields

Drop-Down List Fields

Auto Sequence Fields

Make Objects Same Height & Width

Crop Images as Imported

Image Auto-Crop and Zoom (ID Pix)

Auto Record Retrieval via Card Scan

National Sex Offender Check

Multi-Campus Record Filtering

Custom Action Buttons

Selective Black (K) Panel Printing

Print Individually or Batch Print

Smartcard Enrollment

Send Print Jobs to the Cloud (Web Print)

Advanced Record Field Formatting

Granular User Rights

Read Only Option Driveräó»s License Scanning

User Audit Trail
SHIPPING INFO
At this time, ID Depot Inc. only ships merchandise to locations within USA. We ship via FedEx for dependable service and package tracking. Shipping time and costs vary depending on your location. Please contact us for more information.
RETURN POLICY
It is the responsibility of the client to ensure you order the correct items. Items ordered in error will be subject to a 25% restocking fee, provided they are returned unopened.
Please check your package and report any discrepancies within 10 days of receipt.
A Return Authorization number (RA#) must be assigned to all shipments being returned to ID Depot Inc.. The RA# can be obtained by contacting ID Depot. Each RA# can only be used one time for one shipment. RA#'s are canceled if not used within 30 days.
The RA# must be prominently displayed on the shipping label. If the RA# is not visible, the shipment may be refused. DO NOT place shipping labels or write the RA# on the outside of the manufacturer's boxes. Re-box all returns in appropriate shipping cartons.
Return Authorizations will not be issued for:
Software
Opened Ribbons
Opened Cards
Used Card Printers
Opened packages of Accessories
Notwithstanding the above, at the discretion of ID Depot Inc., we may agree to accept returns on certain products subject to a 25% restocking fee.