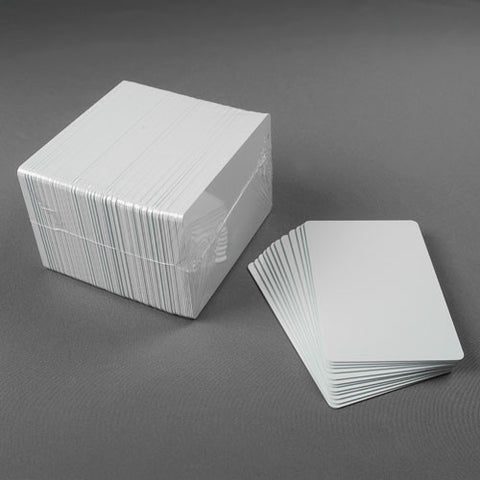 Thermatek™ CR80 30mil Blank Cards (500/pk)
Thermatek CR80 30mil Blank Cards (100/pk)
The industry's highest grade premium PVC cards are manufactured to exact standards to provide smooth, easy to print plastic cards. 
As the first card to be assembled in a dedicated clean room environment, Thermatek became the standard in North American card manufacturing quality, and leads the industry in surface cleanliness and uniformity.
Due to the overlaminate chemistry, Thermatek cards are smooth and help minimized print head damage, card jams and print defects. 
White, glossy, CR80 (credit card size)
Proudly manufactured in North America and never imported from overseas sweatshops
Manufactured to the highest quality and consistency
Shrink wrapped in packages of 100 cards
SHIPPING INFO
At this time, ID Depot Inc. only ships merchandise to locations within USA. We ship via FedEx for dependable service and package tracking. Shipping time and costs vary depending on your location. Please contact us for more information.
RETURN POLICY
It is the responsibility of the client to ensure you order the correct items. Items ordered in error will be subject to a 25% restocking fee, provided they are returned unopened.
Please check your package and report any discrepancies within 10 days of receipt.
A Return Authorization number (RA#) must be assigned to all shipments being returned to ID Depot Inc.. The RA# can be obtained by contacting ID Depot. Each RA# can only be used one time for one shipment. RA#'s are canceled if not used within 30 days.
The RA# must be prominently displayed on the shipping label. If the RA# is not visible, the shipment may be refused. DO NOT place shipping labels or write the RA# on the outside of the manufacturer's boxes. Re-box all returns in appropriate shipping cartons.
Return Authorizations will not be issued for:
Software
Opened Ribbons
Opened Cards
Used Card Printers
Opened packages of Accessories
Notwithstanding the above, at the discretion of ID Depot Inc., we may agree to accept returns on certain products subject to a 25% restocking fee.