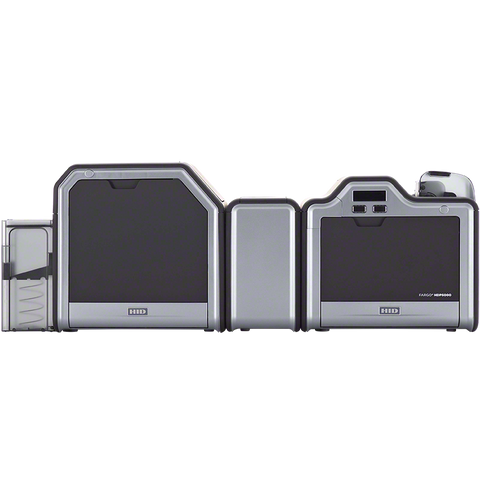 Fargo HDP5000 Card Printer with Laminator
HDP5000 Dual sided card printer, with Laminator installed.
Superior print quality, higher reliability and durability, greater security äóñ your photo ID cards will have all these qualities when you print and encode them with the affordable and versatile HDP5000 ID card printer and encoder.
High Definition PrintingŒ¬ gives you superior print quality, even on smart cards with embedded electronics, for a more impressive public image.
High reliability and durability lowers your total cost of ownership, and affordable pricing makes High Definition Card Printing available to practically any business.
We back the HDP5000 ID card printer and encoder with a lifetime printhead warranty and three-year warranty on everything else.
Versatile modular design permits change as your needs change. Dual card input hopper, dual-sided printing, single- or dual-sided lamination and card encoding technologies are all field-upgradeable features.
Minimal training is required because of its simple design and intuitive operation. Cards, ribbons and overlaminates come in cartridges that load quickly and easily.
Laminator installed for maximum card durability, option of single or double-sided lamination.
SHIPPING INFO
At this time, ID Depot Inc. only ships merchandise to locations within USA. We ship via FedEx for dependable service and package tracking. Shipping time and costs vary depending on your location. Please contact us for more information.
RETURN POLICY
It is the responsibility of the client to ensure you order the correct items. Items ordered in error will be subject to a 25% restocking fee, provided they are returned unopened.
Please check your package and report any discrepancies within 10 days of receipt.
A Return Authorization number (RA#) must be assigned to all shipments being returned to ID Depot Inc.. The RA# can be obtained by contacting ID Depot. Each RA# can only be used one time for one shipment. RA#'s are canceled if not used within 30 days.
The RA# must be prominently displayed on the shipping label. If the RA# is not visible, the shipment may be refused. DO NOT place shipping labels or write the RA# on the outside of the manufacturer's boxes. Re-box all returns in appropriate shipping cartons.
Return Authorizations will not be issued for:
Software
Opened Ribbons
Opened Cards
Used Card Printers
Opened packages of Accessories
Notwithstanding the above, at the discretion of ID Depot Inc., we may agree to accept returns on certain products subject to a 25% restocking fee.