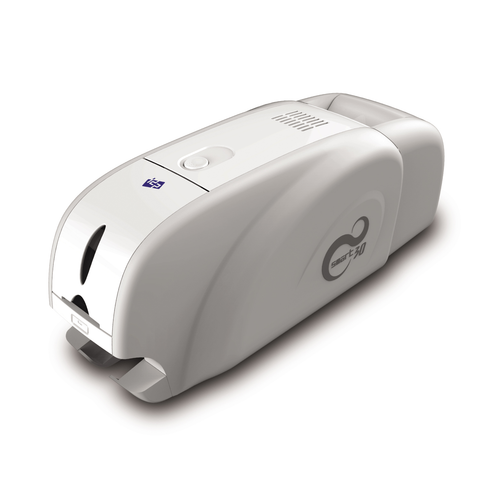 IDP SMART-30D Two-Sided Direct-to-Card Printer
The IDP SMART-30D is your value choice for a quality Card Printer
This little printer rocks!
The small form factor saves space and makes it light and easy to move around. But don't let the small size fool you. This printer is RELIABLE and easy to use !
For low volume card printing, the IDP SMART-30D Card Printer produces vibrant full-colour or monochrome cards quickly, reliably and affordably.
Every IDP Smart printer is backed with a 3-year hot-swap warranty that provides you with a free loaner printer anytime your printer needs service, so you can keep your card program running.
We're so convinced you'll be satisfied with the IDP Smart-30D, that we offer a no-hassle 21-day trial period to make sure it's the right fit for you. Just contact usξfor more details.
SIDES
Single-Sided
Yes
Duplex
Yes
TECHNOLOGY
Dye Sublimation
Yes
Thermal Transfer
Yes
Rewritable
No
Pigment Transfer
No
Auto Feed
Yes
Hand Feed
No
PRINT METHOD
Direct to Card (DTC)
Yes
Retransfer
No
PRINT RESOLUTION
300 DPI
Yes
600 DPI
No
PRINT AREA
EDGE-TO-EDGE
Yes
OVER-THE-EDGE
No
110MM
No
140MM (MONOCHROME)
No
ENCODING OPTION
Mag
Optional
CC
Optional
Contactless
Optional
UHF
No
Barcode Reader
No
Field Upgradeable
No
SECURITY
Kensington Lock
No
UV Printing
Yes
Holokote
No
Key Locks
No
Electronic Locks
No
Tactile Impression
No
LAMINATION OPTION
Lamination
No
Single Sided Lamination
No
Duplex Lamination
No
CONNECTIVITY
USB
2.0
Ethernet
Optional
Wifi
No
Bluetooth
No
WARRANTY
Printer Warranty
3í«í_Years
Hot Swap
No
Print Head Warranty
2 Years
Print Head Warranty (Passes)
U
PRINTER SPECIFICS
Bend Remedy
No
Energy Saving
No
Filtered
No
Noise Level
Low
LCD
No
LED
Yes
DRIVER OS SUPPORT
MS-Certified
No
XPS Driver
No
Windows XP
Yes
Windows Vista
Yes
Windows 7
Yes
Windows 8.1
Yes
Windows Server
2000, 2003
Linux
Yes
Mac
Yes
SIZES
Width (Inches)
6.8
Depth (Inches)
14.8
Footprint (mm2)
64844
Height (Inches)
7.5
Weight (Lbs.)
7.5
INPUT, OUTPUT, REJECTS & CARD CAPACITIES (30 MIL)
Manual Input Feed
No
Front Output
Yes
Rear Output
No
Side Output
No
Input Hopper Capacity
100
Dual Hopper
No
Output Hopper Capacity
25
Rejected Card Hopper
No
CARD SIZES
50MM
No
CR79
No
CR80
Yes
CR90
No
CR100
No
CARD THICKNESS
10 MIL
No
15 MIL
Yes
20 MIL
Yes
30 MIL
Yes
40 MIL
No
50 MIL
No
60 MIL
No
70 MIL
No
SHIPPING INFO
At this time, ID Depot Inc. only ships merchandise to locations within USA. We ship via FedEx for dependable service and package tracking. Shipping time and costs vary depending on your location. Please contact us for more information.
RETURN POLICY
It is the responsibility of the client to ensure you order the correct items. Items ordered in error will be subject to a 25% restocking fee, provided they are returned unopened.
Please check your package and report any discrepancies within 10 days of receipt.
A Return Authorization number (RA#) must be assigned to all shipments being returned to ID Depot Inc.. The RA# can be obtained by contacting ID Depot. Each RA# can only be used one time for one shipment. RA#'s are canceled if not used within 30 days.
The RA# must be prominently displayed on the shipping label. If the RA# is not visible, the shipment may be refused. DO NOT place shipping labels or write the RA# on the outside of the manufacturer's boxes. Re-box all returns in appropriate shipping cartons.
Return Authorizations will not be issued for:
Software
Opened Ribbons
Opened Cards
Used Card Printers
Opened packages of Accessories
Notwithstanding the above, at the discretion of ID Depot Inc., we may agree to accept returns on certain products subject to a 25% restocking fee.