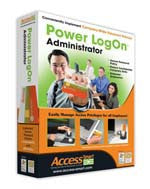 Power LogOn Admin Starter Kit w/Cards & Readers
Secure Password Management with Power LogOnŒ¬
ξ
Imagine employees no longer having to remember, type in, or even know their passwords. Complex passwords are easilyξimplemented; forgotten password resets are eliminated; and government-level multi-factor authentication is quickly deployed.
ξ
Power LogOnξis an enterprise password management solution that allows IT to centrally control passwords,ξusing technology or access prox cards.ξ
ξ
Power LogOn combines password management and card management with secure smart card technology. It easily integrates into existing network architectures, requires no backend server modification and works with most existing applications.
ξ
The Power LogOn Admin Starter Kit includes the following:
ξ
Power LogOn software
2 USB readers
6 smart cards
30 demo licenses
1.5 hours of tech and install support
Full documentation to test, configure & manage Single Sign-Onξ
ξ
Network Access Control Made Easy
Theξinstallation and deployment of Power LogOn is an easy three-step process:
ξ
Step 1. Purchase the Power LogOn Admin Starter Kit
The starter kit is designed to give you everything you need to fully test our enterprise password management solution. You get all the password management software, two readers, six smartcards, 30 demo licenses, 1.5 hours of tech support, and full documentation.ξ After installation, the includedξcards, readers and licenses allow you to run a limited pilot. During the pilot phase, Access Smart is here to help you fine tune Power LogOn to meet your needs.
With our 90-day satisfaction guarantee, your test is 100% risk free!
ξ
Step 2. FREE INSTALLATION SUPPORT
With the purchase of the Power LogOn Starter Kit, you get 1.5 hours of free installation and product training. In most cases we can get you fully up and running, and issuing cards, in that time.Œæ But, donäó»t worry. Should your installation take a little longer, we will stay with you.
Plus, we record your online installation and training session for you to reference again later.ξ This recording is only for you and is never available to the public.ξ
ξ
Step 3. IMPLEMENT: Customize cards, readers and licenses to your specific needs
After you have tested and piloted Power LogOn, you are ready for deployment. The process fast and easy. With the starter kit, all the heavy lifting has been done. All thatäó»s leftŒæis simply identifying the number of licenses, reader types and card types you need. Because Power LogOn is designed to the ISO and PC/SC standards, there is no proprietary hardware. If you already have some components, just let us know so we can makeŒæsure everything works together.
SHIPPING INFO
At this time, ID Depot Inc. only ships merchandise to locations within USA. We ship via FedEx for dependable service and package tracking. Shipping time and costs vary depending on your location. Please contact us for more information.
RETURN POLICY
It is the responsibility of the client to ensure you order the correct items. Items ordered in error will be subject to a 25% restocking fee, provided they are returned unopened.
Please check your package and report any discrepancies within 10 days of receipt.
A Return Authorization number (RA#) must be assigned to all shipments being returned to ID Depot Inc.. The RA# can be obtained by contacting ID Depot. Each RA# can only be used one time for one shipment. RA#'s are canceled if not used within 30 days.
The RA# must be prominently displayed on the shipping label. If the RA# is not visible, the shipment may be refused. DO NOT place shipping labels or write the RA# on the outside of the manufacturer's boxes. Re-box all returns in appropriate shipping cartons.
Return Authorizations will not be issued for:
Software
Opened Ribbons
Opened Cards
Used Card Printers
Opened packages of Accessories
Notwithstanding the above, at the discretion of ID Depot Inc., we may agree to accept returns on certain products subject to a 25% restocking fee.