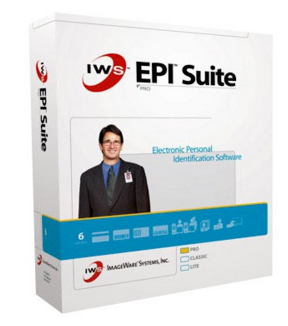 EPI Suite 6.3 Pro - English USB
EPI SuiteŒ¬ Pro
EPI Suite Pro is ImageWareäó»s premier photo ID badge software for large organizations with multi-user network installations that need to cost-effectively issue, manage, produce, and control thousands of secure ID badges. It is designed specifically to manage large amounts of data, images, and badge designs.
EPI Suite Pro enables users to:
Track and issue multiple badges per person
Automatically populate multiple badges with one personäó»s data, eliminating redundant data entry
Conduct a variety of batch operations like reissuing, updating, printing, or adding groups of badges at once
Encode magnetic stripes, bar codes, and smart chips inline with the printing process
EPI Suite Pro is ideal for large or multi-facility corporations, government organizations, transportation companies, public utilities, and universities.
EPI Suite comes with standard ID badge design or users may custom create an unlimited number of full-color, dual-sided ID badges. EPI Suite also comes with a variety of design tools that enable users to:
Add barcodes and magnetic strips to ID badge designs
Import graphics for backgrounds
Add logos, text, and more
EPI Suite is set apart by its ability to efficiently manage large amounts of data, photos, and ID badge designs. As a result, searching for, sorting, and creating multiple cards is much faster and easier. To enhance security, EPI Suite is password protected and includes the ability to encode data onto ID badges with magnetic stripes, barcodes, or smart chips.
Regardless of your organizationäó»s specific requirements, there is an EPI Suite product that is right for you.
SHIPPING INFO
At this time, ID Depot Inc. only ships merchandise to locations within USA. We ship via FedEx for dependable service and package tracking. Shipping time and costs vary depending on your location. Please contact us for more information.
RETURN POLICY
It is the responsibility of the client to ensure you order the correct items. Items ordered in error will be subject to a 25% restocking fee, provided they are returned unopened.
Please check your package and report any discrepancies within 10 days of receipt.
A Return Authorization number (RA#) must be assigned to all shipments being returned to ID Depot Inc.. The RA# can be obtained by contacting ID Depot. Each RA# can only be used one time for one shipment. RA#'s are canceled if not used within 30 days.
The RA# must be prominently displayed on the shipping label. If the RA# is not visible, the shipment may be refused. DO NOT place shipping labels or write the RA# on the outside of the manufacturer's boxes. Re-box all returns in appropriate shipping cartons.
Return Authorizations will not be issued for:
Software
Opened Ribbons
Opened Cards
Used Card Printers
Opened packages of Accessories
Notwithstanding the above, at the discretion of ID Depot Inc., we may agree to accept returns on certain products subject to a 25% restocking fee.